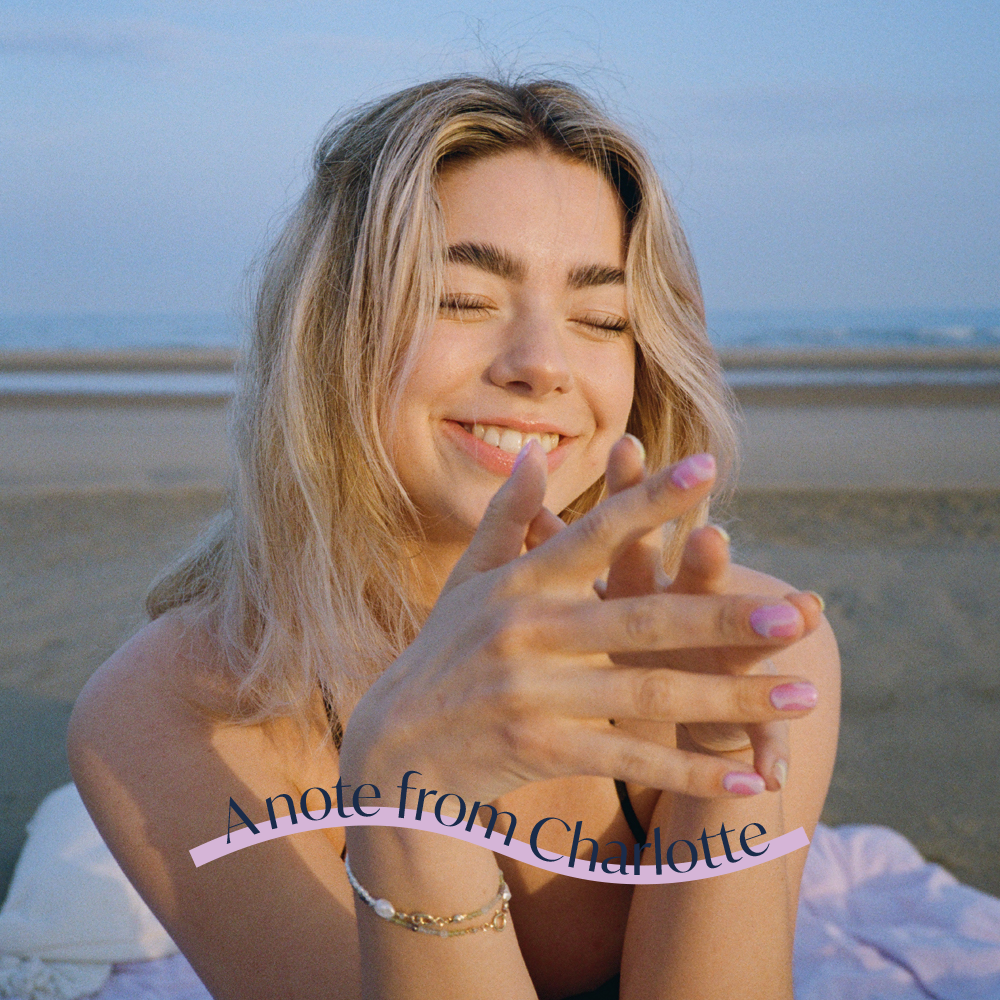 Charlotte X Koi d'Azur: Endless Energy
Ik ben ongelofelijk dankbaar dat ik samen met Koi d'Azur deze bijzondere collectie mag uitbrengen. De sieraden in de Endless Energy collectie staan symbool voor vrouwelijkheid, vrijheid en kracht. De sieraden zijn een fijne combinatie van chique parels en speelse kleuren waardoor je 'oneindige energie' voelt wanneer je ze draagt. Het is voor mij belangrijk dat de sieraden altijd en overal gedragen kunnen worden, als een deel van mij. De materialen die gebruikt zijn, maken dit mogelijk! Zomer of winter, regen of zonneschijn, elk sieraad uit de Endless Energy collectie kan zonder zorgen gedragen worden (ja, zelfs op het strand of in het zwembad).
De edelstenen
Ik was meteen aangetrokken tot de edelstenen die ik heb gekozen voor deze collectie. Mijn favoriete kleuren zijn onder andere blauw en groen, en heel toevallig passen peridoot, apatiet, ioliet, aquamarijn en parels ook perfect bij mijn persoonlijkheid.
Peridoot
is een steen voor groei en persoonlijke ontwikkeling. Het helpt je blokkades te doorbreken en energie, gedrag en zelfs mensen los te laten die niet meer in je leven passen en je groei beperken.
Apatiet
is een motiverende steen die je persoonlijke kracht, groei en ontwikkeling bevordert. Het maakt ambitieus, onafhankelijk en helpt je je doelen te bereiken. Het maakt de geest helder en vermindert verwarring, zorgen en prikkelbaarheid. Daarnaast stimuleert apatiet creativiteit en zelfexpressie.
Ioliet
stimuleert inzicht en kennis. Het helpt je ontdekken wie je bent, wat je voelt en wilt, en geeft je de kracht jezelf te zijn. Het versterkt je eigen onafhankelijkheid en verantwoordelijkheid.
Aquamarijn
werkt kalmerend en verkoelend, maar maakt ook scherp en doelgericht. Het brengt je lichaam en geest in balans en tegelijkertijd vermindert het boosheid, stress en prikkelbaarheid. Hierdoor is aquamarijn de perfecte steen als je een moeilijk gesprek moet aangaan of een conflict wil uitpraten.
Parels
De zachte en zuiverende energie van parels brengt rust, vrede en verlichting. De zuiverende werking stimuleert eigenschappen als eerlijkheid, integriteit, begrip en acceptatie (van jezelf en anderen). Het helpt negatieve emoties zoals boosheid en schuldgevoelens los te laten zodat je emoties in balans raken.
Het betekent enorm veel voor me dat je een sieraad uit mijn Endless Energy collectie gaat dragen en ik hoop dat je de liefde en energie voelt die erin zit.
I'm incredibly thankful to have realised my own vision for perfect jewellery in collaboration with the lovely Koi d'Azur team. All the pieces in my Endless Energy collection symbolise femininity, freedom, and empowerment. The combination of chique pearls and the playfulness of the colourful gemstones gives whoever wears the jewellery a feeling of endless energy, which is what inspired the name for this collection. It's important to me to be able to wear jewellery whenever I feel like it, as an extension of myself. The materials that are used in every piece make this possible – sunshine or rain, summer or winter, you can wear an Endless Energy piece anytime & anywhere (yes, even at the beach or pool)!


Get to know about the gemstones
The gemstones I chose for this collection immediately caught my eye. Some of my favourite colours are blue and green, and it just so happened that peridot, apatite, iolite, and aquamarine also fit my personality perfectly.
Peridot
symbolises growth and personal development. It helps to remove mental obstacles and helps you let go of certain people or energies that no longer help you grow.
Apatite
is a stone that motivates you and helps you to achieve your goals. It clears the mind while removing confusion, worries, and irratibility. It also stimulates creativity and self expression.
Iolite
is a stone that promotes insight and knowledge. It helps you to discover the real you, what you feel and want, and it gives you the power to truly be who you are. Iolite also stimulates independence and responsibility.
Aquamarine
is a calming and soothing stone, but it also makes you alert and goal oriented. It balances body and mind while reducing feelings of anger, irritability, and stress. This makes it a perfect stone to wear if you're in need of some conflict resolution!
Pearls
are also a big part of the Endless Energy collection. The soft and soothing energy that pearls radiate brings calm, peace, and enlightenment. Pearls stimulate honesty, integrity, wisdom, and acceptance (of yourself and others). They help you let go of negative emotions such as anger or guilt which can lead to emotional balance.

I truly hope you feel the Endless Energy we've put into this collection and wear the pieces like I do: all day every day!